Interview: T.Shirt
Cottoning On — New York rapper aiming to be far bigger than XXL
Words Alex Marshall
Photography Andy J. Scott

It's easy to fall for New York rapper T.Shirt after watching his video 'For The Record'. In it, you see nothing but his face for the first minute, dominating the screen, him sucking on a cigar in between raps about "pretty bitches" tattooing him "in the nude". Then the camera pulls away and you see he's actually hanging upside down in a dingy basement. Then a topless woman walks past.
It's a ludicrous 90 seconds that feels more like watching a crime boss on his break than a rap video. But that's just what you should want from rap, larger-than-life characters playing up to the absurdity of it all.
Unfortunately, T.Shirt — twenty-something George Steven — doesn't seem to have realised it's a good idea to carry on that behaviour outside music. In the half-hour I chat with him, there's absolutely no bombast or attitude, not even the sound of a cigar being lit. Instead, he tells me he's on a beach in California, in the midst of a "really amazing week" meeting producers ("I've never been able to work like this. I'm in five studios a day and everyone's heard of me"), and all he wants in life is "to be happy and help my friends be able to do what they're talented at".
'For The Record'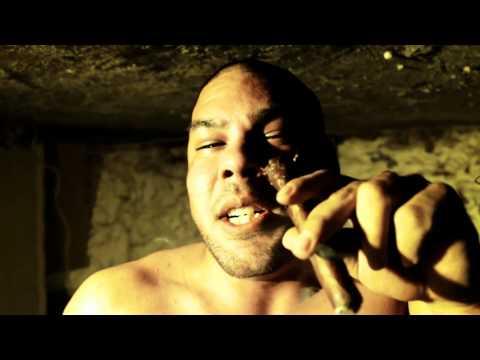 I tell him he's completely different to what I expected. He laughs. "Oh man, that's great. I mean, the last thing I want to do is be pigeonholed as one type of rapper, one personality. What bothers me about a lot of young artists now is they hit a specific sound, get some success and then want to duplicate it over and over again. For me, what's interesting is someone who raps about all different experiences.
"You don't have to be the tough guy all the time. Right now, I'm on the sand. It is what it is. I'll be back in the grit and grime of New York in a couple of days. If we speak then, maybe I'll seem completely different."
If you ignore his good manners, T.Shirt does seem to be your typical, up-and-coming rapper. Born in Queens, he's been making music for five years without much success, dealing with older rappers who prey on people like him. 88-Keys, one of Kanye West's best mates, once tried to get him to fork out $1,000 to appear on a mixtape.
His new album, I Should Just Chill, should help change his fortunes — that's if people can find it online. He got his name when he was a teenager, because he sold homemade shirts along with his music. But now George admits calling himself T.Shirt, a name that's unGoogleable, wasn't the best idea. "Yeah, I kinda shot myself in the foot there, but it gives me a goal — to be bigger than the actual t-shirt," he says. "Rap names are ridiculous anyway. Mine's fun and girls like it. What could be better?"
Related: