Interview: Grimes
Montreal's Claire Boucher on the cusp of hitting paydirt
Words Henry Farmery
Photography Sadaf Ha

Grimes is fresh from a North American tour supporting Lykke Li, and her voice is bright despite her Canadian drawl smothering every word. "I've been staying in a hotel," she proudly proclaims. She's more accustomed to friends' floors and crowds of eight people than the bitter-suite life of rock stardom and crowds of thousands she's been experiencing lately.
The tour with Li has been curative. With her stage fright on the mend, she muses that she had to "grow up a bit". Nevertheless, we might be persuaded to forgive her youthful transgressions — she is only 23, after all, and already two albums in with another on the way. She promises that the new one is her best so far, which is a bold statement considering the acclaim her previous two, Geidi Prime and Halfaxa attracted.
For those unfortunate enough not to have already heard Grimes (real name Claire Boucher), she's a crepuscular and brooding artist whose searing vocals cut through backing tracks as murky as her name suggests. Her latest release 'Darkbloom' — an EP split with fellow Montreal artist D'eon — sees her exploring her dance and pop side, and it's produced two of her strongest tracks to date, 'Vanessa' and 'Crystal Ball'. These songs serve as a tantalising glimpse at her next long-player. "The next album I'm making is pop music but still experimental — definitely dance-orientated," she explains.
'Vanessa'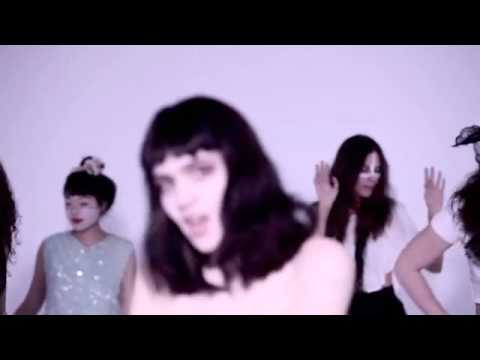 Grimes giggles and jokes her way through our interview. She's beguiling in her nerdy charm. Later, she's off to see Harry Potter dressed in full costume. I ask what her Patronus is. "A beluga," she answers immediately, and from there goes on to explain why all the tracks on her first album are Dune references. "Dune is probably my favorite book… so when I wrote Geidi Primes, I thought, 'Oh, no one will ever hear this, it doesn't matter.' That decision has kind of haunted me."
Geidi Primes is being reissued in the UK by No Pain In Pop in anticipation of a slew of live gigs all over the country. Grimes describes the record as "naïve", although it contains her favourite song, 'GrisGris'. The album does posses a raw charm and maintains her distinct vocal style; a spectral, echoey voice seems to weave in between heavy drumbeats like the howling ghost of a castrato navigating the Grand Canyon. She doesn't play it live, though, because it doesn't loop well, apparently.
So what next? Grimes has no shortage of ambition. "I want to make a video for every song on the next album," she chimes. It's clear that Grimes is on the cusp of great things, and if she can tame her own talent she'll rise higher than her vocal range.
And so, a final question: Are you tired of being compared to Kate Bush? "Yes."
Related: