Interview: Toy
The London band's expansive motorik pop is anything but child's play
Words Luke Turner
Photography Joseph Tovey Frost

London-based five-piece Toy make psychedelic pop with a vigour and vim that suggests Friday nights becoming Monday mornings, and they deliver it from under hair last seen on cosmically-inclined groups of the sixties and seventies. Although fans of the current crop of bedroom-based artisans, the band's frustration with lo-fi live as "some fat bloke playing World Of Warcraft onstage" has inspired them, as bassist Maxim Barron says, to "want to bring the bedroom to the stadium".
Toy's expansive psychedelia, as heard their double A-side single for Heavenly Records, 'Left Myself Behind' / 'Clock Chime', brings to mind anything from the more experimental end of the folk movement, to the pretty, chrome pop of mid-period Wire, or the sturdy, propulsive rhythmical bed of the German kosmische groups. As Barron puts it, "I seem incapable of making any music that isn't motorik."
Guitarist Dominic O'Dair used to make fake house tracks that they'd put on at parties and mix into Dave Pearce-like dance anthems to see if anyone would notice the difference. Barron enthuses about the repetitive, hypnotic music of Chris & Cosey and Factory Floor, and says their aim is simply "to replicate that feeling with guitars".
Such ambition marks Toy's continuing, and seemingly successful, effort to transcend the bizarre legacy of the group to which three of their number — Barron, O'Dair and singer Tom Dougall — once belonged. Joe Lean & The Jing Jang Jong were an NME-beloved indie band who, despite being hyped to the heavens, had their debut album mysteriously withdrawn from sale by their record label the week it was due to be released, even after reviews had been published.
'Left Myself Behind'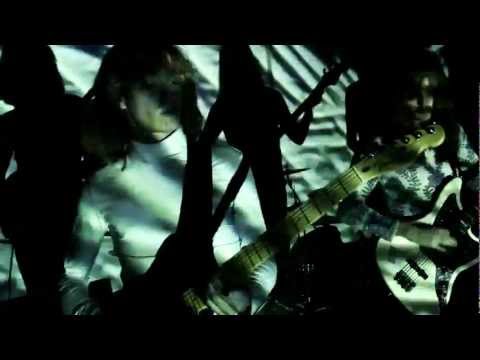 Dougall was the first to quit The Jong, departing to play guitar for his sister, Rose Elinor Dougall. Barron and O'Dair followed a year later, and the singer says that as soon as they'd left the obvious thing was to reconvene and reignite their creative connection away from a record label forcing them to dig their own graves in the indie landfill.
The Brighton boys hooked up with Gloucester-born drummer Charlie Salvidge and Spanish A&E nurse Alejandra Diez as "keyboardist and lifesaver". Her day-job skills have apparently already been required. NHS-ready care if it all goes wrong and keyboard playing? You can't beat that. "It's a lethal combination," says Barron, laughing.
"I think you can hear when the entire band has their hearts and souls and minds in the music," says Dougall of Toy's collaborative spirit bringing their individual talents together. "Unless it's Captain Beefheart or The Fall — that's a lot more interesting as one person's vision. We've been through hell with the old band, but we're all friends, and that really helps. If we have an argument it's easily solved. We're like a gang."
The day of our interview sees Toy recording more new songs after their first tour, supporting long-time friends The Horrors. That run of dates included a set at the Roundhouse that had the huge main room enraptured, and their debut single sold out from the merch stand so quickly that the band themselves don't have copies. Yet while their ambitions might be grounded in reality (they say they merely require the sustenance supplied by Dr Oetker's bracingly cheap frozen oven pizzas), their music is far from the prosaic — instead giving the sensation of steady gear shifts towards euphoria and escape. As Dougall sings on the rushy 'Left Myself Behind': "So breathe in deep / and unlock yourself / from your very mind".
Related: